For those with a saccharine tooth only...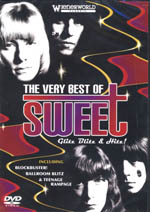 Sweet were a band with a confused identity - happy to take the adulation and cash for a string of hit singles, but they longed to be taken seriously. Hence, scratch beneath the surface and you found a decent, hard working rock band.
But, as it says on the cover, this DVD focuses on the Glitz, Blitz and Hitz as told by three of the protagonists - guitarist Andy Scott, Nicky Chinn (one half of the Chinn Chapman writing partnership) and producer / manager Phil Wainman.
To be honest, none of what is on offer here is revelationary, and while most of us still have the odd soft spot for the glam years, most of the footage here is dated and much of it cringe worthy - especially the early teeny bop period of Funny, Funny, Co Co, Poppa Joe, Little Willy and Wig Wam Bam.
Of course Sweet did deliver some pop gems - Blockbuster!, Hell Raiser, and Ballroom Blitz. And their last hit - Love Is Like Oxygen pointed at what might have been. But by that time the cracks were beginning to appear.
Here, you get the Sweet story told from three points of view - all with their own axe to grind. Nicky Chinn who comes across as a Harry Enfield character with an annoying nasal habit, Phil Wainman clearly feels he never got the credit he deserved (but how can you take a middle aged man in shorts seriously?), and Andy Scott - a down to earth sort of a guy. They all claim most of the credit.
It's all a bit too back slapping and lightweight. Maybe that was the Sweet, but of course, Brian Connolly and Mick Tucker are no longer with us to tell their sides of the story. And one can only assume Steve Priest wanted no part in the project. Put together on a shoestring, you can see why. One for fans only.
***
Review by Pete Whalley