SUZI QUATRO Back To The Drive EMI (2006)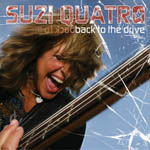 In the 70's Suzi Quatro was something of an innovator, and with her low slung bass guitar and leathers became a role-model for female rockers and may even have dyed the roots of 'Girl Power'.
Some three decades and thirty summers later she is back with the biggest heap of llama dung this side of the sahara.
Let's contrast with Kate Bush. Late last year Kate came back after an absence of a decade or so and offered something quite special and, moreover, a little more evolutionary.
Back to Suzi, and from the opening refrains of - you almost guessed it - 'Back To the Drive' - you just know where all this is going. For Suzi, time has stood still, this is 1973 and the result sounds like a Pro Tools mix of 'Devil Gate Drive' played by Gary Glitter's band.
'15 Minutes of Fame' - autobiographical? - comes next and harks back to the great Tom Robinson and 2-4-6-8...
You're getting the picture, nothing much has happened musically in three decades. And as if to confirm this, possibly the best track on the album - 'Rockin' In the Free World' - is a Neil Young cover. Assistance from Andy Scott (The Sweet) and old-time collaborator Mike Chapman bolsters the time-warp credentials.
Throw in a few ballads for good measure and you feel at the end of it all someone is taking the piss.
I understand Suzi has been sorting her life out over the past decade, with an unhappy divorce, deaths in the family, and general paranoia. 'Back To The Drive' suggests a once-innovative rocker who may have rediscovered her own psyche, but hasn't yet discovered what it means to evolve musically. A disappointment.
*
Review by David Randall