SUE FOLEY New Used Car Ruf Records RUF1116 (2006)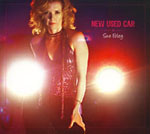 If the title of Canadian guitarist Sue Foley's 'New Used Car' puts you in mind of regurgitated weak double entendres and lightweight mixed metaphors, then you are not far from the truth. Sue further compounds the felony by delivering a series of licks and musical phrases that might have been lifted from the Jagger/Stones oeuvre as on the title track and 'Do It Again' and even the Animals on 'Change Your Mind'. On 'When I Come Back To Ya'
I suggest you could add your own suggestions, but this track alone also points you in the direction of her limited thin vocal style, a weakness she partially counters with some clever vocal phrasing.
There is an upside with some undeniably sprightly roots rocking from a self confident Canadian rocker who is at her best on the impressive guitar led drifting blues of 'Absolution', on which she plays with a full tone and absolute authority. The pleasantly ragged Dylan phrasing on 'Do It Again' and on the upfront sexual longing of 'Sugar' and the confident rock swagger of 'Mother' are further highlights. On the deeply ironic stab at domestic relationships on 'Little Things' she concludes with the simple line 'I Got To Get Out of Here' which doubles as a clever lyrical outro'.
Sue's derivative weakness could also prove to be her strength because for all the different influences, familiar musical phrases and some unreconstructed lyrics, there are enough little hooks here to catch some radio play. File under slow burner.
***
Review by Pete Feenstra
New Used Car
© 2006 Ruf Records. All rights reserved.