SUE FOLEY 'Change' Ruf 1096 (2004)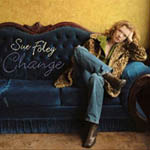 Sue Foley has been around for a while, Change being her 9th album. And it's a live acoustic bar room blues album.
Her previous outings are all steeped in the blues, and you can imagine this is what the blues would sound like in some smoky bar in the deep south, miles away from her native Canada. And having supported the likes of John Lee Hooker, BB King you quickly realise this is the real deal, not some cheap imitation polished and sanitised for mass consumption.
As it says on the sleeve, the CD took one night to make with no rehearsing, overdubs or re-dos. So what you get here is raw, gritty and played predominantly the acoustic way. Sue wrote five of the twelve songs, but most sound like traditional blues numbers. I guess that's a tribute. Her vocal style is difficult to pigeon hole - imagine Cyndi Lauper goes acoustic and roots (and giving it 'plenty') and you get a vague idea. And although the image probably doesn't do justice to Sue Foley or Cyndi Lauper, it gets you in roughly the right ballpark.
There's plenty of finger picking, obscure blues numbers, boogie and rocking out. And hiding in between the blues numbers is a stripped back version of George Harrison's Here Comes The Sun. But frankly, while the latter is pleasant enough, it adds nothing to the original or a hundred and one versions by other artists.
This isn't going to have mass-market appeal. But if you like the blues, acoustic delivery and female vocals this is well worth checking out. And by the way, it works best with the volume turned up to eleven. Enjoy.
***
Review by Pete Whalley