SUCIOPERRO Random Acts Of Intimacy
Captains Of Industry (2006)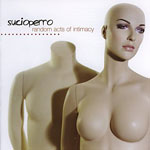 Random Acts Of Intimacy is the debut album from Ayr based quartet Sucioperro. Sucioperro (Spanish for 'dirty dog' or 'dirty bitch' are The Dragon (vocals/guitar), The Big Slice (bass), The Farmer (guitar) and The Welshman (drums). They've toured with the likes of Biffy Clyro, Brigade, Hell Is For Heroes, Jetplane Landing, Aerogramme, Fightstar and Deacon Blue. Yes, Deacon Blue - Christ knows what a their audience made of having their cobwebs blown away by an aural assault.
According to their PR they play a complex mix of rock, acoustic and radio anthems which should appeal to fans of Foo Fighters, the Police and Jimmy Eat Word. Which puts them somewhere between Nirvana and Rage Against the Machine, and Crowded House and The Proclaimers. Sounds to me like they've been listening to The Beatles and Black Sabbath as well. It's a melting pot of styles - tender moments balanced by bludgeoning brutality.
The opening - The Crushing Of The Little People - track opens with an atmospheric marching drums before beat before guitars crash in, Random Acts Of Intimacy begins with an acoustic balance before building to a frenetic finish, and Tem v Com hints in places of The Police.
But for the most part, you'd better batten down the hatches and keep the cat in doors. But in their more tender moments - Apathy=inaction, for example, Sucioperro suggest that if they felt so inclined they could deliver a pretty damn fine unplugged set. Which is always the sign of quality.
Sucioperro and Random Acts Of Intimacy should go down well with Biffy Clyro fans. And while this sort of rock / metal isn't my cup of Earl Grey, it does seem to do what it says on the tin and I would imagine it will be gratefully absorbed by lovers of the genre.
***½
Review by Pete Whalley