STYX Equinox/Crystal Ball BGO Records (2006)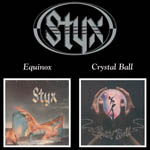 With Styx having made a successful return last year to the UK after a 25 year absence, this remastered reissue is a timely way to catch up with two of their lesser known CD's. They represent their first two major label albums, from 1975 and 1976 respectively, and you can see them developing to the classic 'Grand Illusion' album that was to follow.
'Equinox' still has the progressive touches of the likes of Yes and Supertramp, but concludes with a trio of absolute classics: 'Midnight Ride', with James 'JY' Young's gruff vocals, and 'Born for Adventure', reminding me slightly of Thin Lizzy's 'Emerald', are two of the heaviest Styx riffs ever, and 'Suite Madame Blue' showcases Dennis De Young's theatrical sense and some awesome harmonies on the 'America' refrain.
'Crystal Ball' saw the arrival of their then secret weapon, Tommy Shaw, to share the vocals with De Young and add his songwriting talents. He co-writes four numbers and the title track remains his signature song in the live set to this day. The sound takes a slightly glossier direction but opener 'Put Me On' and 'Shooz', with some great slide guitar, still rock hard and the guitar climax on 'Ballerina' which closes the album was something that passed me by when I first heard the record.
There are no bonus tracks, and the two albums comfortably fit on a single CD, but a nicely put together package with some original sleeve notes, an essay detailing the band's history up to that point, and lyrics for both albums. A piece of pomp rock history worth checking out.
****
Review by Andy Nathan