STYX 'Big Bang Theory'
New Door/ Universal Music (UMe) / Frontiers (2005)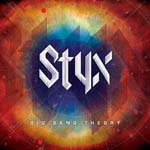 2005 certainly seems to be a year for established classic rock bands and musicians to release covers albums. We have already had ones from Leslie West, former Ozzy guitarist Jake E. Lee and Michael Schenker with ones to come from Def Leppard, Shaw & Blades, Vivian Campbell and a rumoured Tesla covers set.
Here we have Styx's covers album which includes a re-recording of their own classic 'Blue Collar Man', which gets an acoustic makeover on here. This track would be one of the last recordings made by legendary piano player Johnnie Johnson (Chuck Berry) prior to his death this year.
'I Am A Walrus' has already enjoyed success in the US although I don't personally like this track as I never liked the original! 'I Don't Need No Doctor' (originally Humble Pie and later covered by WASP) is another skipable track especially the annoying babble going on at the end of the song.
But bar these two it is a very enjoyable set with Styx's take on Free's 'Wishing Well' an obvious highlight. Those trademark Styx harmonies get a good work out on the Who's 'I Can See For Miles' and the brief CSNY 'Find The Cost Of Freedom'.
I love 'Can't Find My Way Home', originally by Blind Faith and this version even beats the excellent House of Lords cover as well. All the covers are from the 60's and 70's as the band pay homage to tunes and artists that were doubtless an influence on them.
Essential for fans of the band although with a covers set I can't see it appealing to many outside their fan base, although fans of the original artists would surely enjoy the Styx-ified version on here.
****
Review by Jason Ritchie
Audio streams:
Cant Find My Way Home (Windows Media)
Cant Find My Way Home (Real Audio)
I Dont Need No Doctor (Windows Media)
I Dont Need No Doctor (Real Audio)
All audio © 2005 New Door/Universal Music. All rights reserved.