Early Beatle history...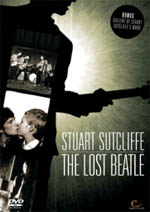 The Stuart Sutcliffe - the fifth Beatle - story isn't exactly breaking news, but this lovingly put together 60-minute BBC documentary is a fitting memorial.
Friends, relatives and those who were there during the Hamburg years tell his story. Principally, his sister, Klauss Voormann and Astrid Kirchherr. It features plenty of archive footage and is nicely constructed, although the 'voice' of Stuart Sutcliffe is overly scouse if his sister's cultured tones are anything to go by.
The story starts when John Lennon moved in with fellow art student Stuart and how, as a result, Stuart became the first bass guitarist of the Beatles.
It moves rapidly to Hamburg as the original line up of John, George, Paul, Stuart and Pete Best set off in search of sex, drugs and rock 'n' roll fortune. At this point the story is one of the Beatles formative days as much as Stuart's.
But meeting artist Klauss Voormann and through him German photographer and true love Astrid Kirchherr was to change the course of Stuart's path as he became increasingly drawn to, and ultimately gave up rock 'n' roll in favour of his first love – art.
But his career was cut short by his untimely death aged 22 from a cerebral haemorrhage. The inquest revealed this most likely resulted from an earlier blow to the head. Some would have it this fateful blow came in a lover's beating by Lennon, his guilt confessed in the lyrics to Jealous Guy – 'I didn't mean to hurt you, I'm just a jealous guy.' Others say this is unthinkable. We'll never know, but what is clear that a young and talented life was cut unduly short.
A poignant tribute and a worthy watch for anyone with even a vague interest in the Beatles.
****
Review by Pete Whalley