STRIFE Rockin' The Boat Timeline TLCD003 (2006)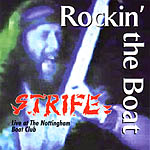 'One of Britain's greatest live 3 piece rock bands of the 70's' - this is a high accolade indeed and one that accompanys the material promoting this live CD from 1976.
More accurately, this may have been one of the UK's finest support acts of that decade. I am sure I saw the band several times, as this Liverpool-based band frequently supported artists at one of the city's major venues, the Stadium, where the queues to get a good spec frequently stretched around the building from about lunchtime prior to the gig.
There is some truth in the rumour that Strife probably frightened a lot of the bands they supported, among them Baker Gurvitz Army, Judas Priest and Ten Years After: they were pretty damn good. What I hadn't realised is that the band signed to Chrysalis and released one album for that label in 1975.
Sadly, that was probably their undoing as Chrysalis held them under contract for a few years whilst not releasing anything as the musical climate shifted to punk and three-chord thrash. Sadly, too, a lot of punters would only remember them from their ticket stubs as they supped themselves silly before the main act.
This 1976 gig, unearthed from a Radio Trent recording and showing the band in all their live glory, is a fantastic souvenir. The band played all their own material and - on stage - it frequently descended into freeform jam. John Reid was the band's talented chief songwriter and guitarist and his raw riffing and fluid bluesy rock style will appeal to many with a taste for seventies guitar nostalgia. Check out 'Indian Dream' for proof.
Band members Gordon Rowley and drummer Paul Ellison were no slouches either and are well showcased on 'Number 1'. All these guys have a story to tell: in 1972 Reid was badly injured in a stock-car crash whilst Rowley was nearly electrocuted on stage. In 1973 they played at the last night of the original Cavern Club.
Opening with 'Better Man Than I' there are definite shades of Cream, but then we are talking classic power trio here, and I detect similarities to that other great heavy trio of the seventies Budgie (with whom they toured in 1978) and Leslie West's Mountain. The band were also quite psychedelic when they stretched out, recalling Quicksilver Messenger Service and those Welsh heroes, Man.
For any rock fan of the seventies power trio format, and certainly anyone who remembers them as a support band, this excellent live document will rekindle an old flame. You can almost smell the joss sticks, feel the quality of the greatcoat, and the width of the loon pants. South Sea Bubble-tastic.
Check out also, the band's previous reissues. 'Back To Thunder' (Timeline RUSH TLCD001) was their second album originally released on Gull in 1978 and 'Rush' (Timeline RUSH TLCD002) was the debut for Chrysalis in 1975 with production - bizarrely - by R Dean Taylor, perhaps better known for his hit single 'Take A Letter Maria'.
****
Review by David Randall
Better Man Than I
© 2006 Timeline Records. All rights reserved.