THE STRANGLERS 'Long Black Veil'
(Liberty 7243 5 48906 2 8)(2004)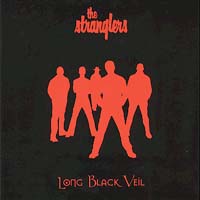 It's a strange old world that sees The Stranglers back on their old record label, nearly thirty years after first signing to them. In fact, this is the 30th anniversary of The Stranglers forming as the Guildford Stranglers, oddly in Chiddington, not Guildford, in 1974.
They were an anachronism even then, getting lumped into the punk rock scene when, frankly, they were a progressive blues band in the vein of The Doors or Paul Butterfields Better Days. Their 'punk' attributes were more due to the alienation and anger prevalent in their songs, rather than any musical similarities. It was that attracted me all those years ago, rather than their laddish, pre Loaded antics. Even being mistaken for pensioner drummer, Jet Black in a Birmingham pub didnít put me off (although the free drink helped).
When Hugh Cornwell left few thought the band could or would continue. But they did, replacing him with John Ellis, formerly of the Vibrators and singer Paul Roberts. Since then it's been the world of far odd foreighn touring, biker festivals and indie labels, but with a new album out, another UK top 40 hit "Big Thing Coming" and "Waltzinblack" featuring on the latest Vodaphone adverts, it's the unlikeliest comeback of the year. After all, how many other former ice cream selling, OAP drummers are likely to have a hit single in our youth oriented world?
And it is good. "Long Black Veil", is another sonorous, dark and brooding Stranglers number, part Morricone western, part Creedence Clearwater Revival, all Stranglers classic. The album version is better than the single edit, revelling in it's storytelling, thereís a bonus track in "Life's Too Short" and the afore mentioned "Waltzinblack" makes a return.
***
Review by Zeitgeist