STRANGLEHOLD Valhalla Records (2005)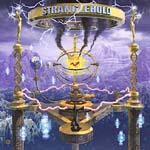 The band's line-up features former Lionsheart members Steve Hales (drums) and Pete Bartlett (bass/ keyboards) plus vocalist/ guitarist Jon Nicholas. This is the band's debut release on UK based Valhalla Records (what a great label name!) although the band formed in the late 90's.
Now the music is classic heavy metal meets power metal with lashings of keyboard runs and guitar solos overload. That's not to say it is a confused mess, quite the opposite as the band have some excellent tunes like opener 'Total Eclipse' and the soaring guitar/harmonies on 'Discretion' (reminded me of the last Praying Mantis album in the harmonies construction).
Vocalist Jon Nicholas is more than capable of matching the musical bombast created by the band and can hit those Bruce Dickinson style siren vocals when needed. The album loses its way with the last couple of tracks - these are not bad songs they just lack that killer touch. The production is good overall but then you'd expect nothing less with Threshold's Karl Groom involved.
Definitely worth a listen and another fine band to add to the growing ranks of UK based metal bands like Intense, Power Quest and Shadowkeep.
****
Review by Jason Ritchie
Rising Stars (interview)

Achilles Heel

© 2005 Stranglehold/ Valhalla Records. All rights reserved.
***** Out of this world | **** Pretty damn fine |
*** OK, approach with caution unless you are a fan |
** Instant bargain bin fodder | * Ugly. Just ugly