Scotland's finest blues rock band in rare DVD outing...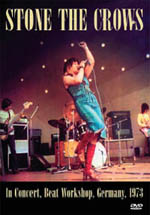 With Jimmy McCulloch now on guitar (original guitarist Leslie Harvey, brother of Alex, had died the previous year), this rock outfit still kicked heavy duty.
Singer Maggie Bell still had lots of energy and power, and a touch of Janis Joplin in her voice; both bluesy and funky.
'Going Down' is a classic, as is 'Penicillin Blues' (once recorded by Alex Harvey in the 60s). Pianist Ronnie Leahy went on to play with Jack Bruce, Nazareth and a host of others such is his pedigree.
With band interviews, the total running time is over 2 hours, which makes good value.
Classic, in every sense.
****
Review by Joe Geesin