STONE SOLE RIVER Terra Mama (2006)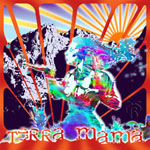 There's a new programme on BBC1 - Life On Mars. No, not an astronomy programme, or a Bowie documentary. It's about a present day cop gets hit by a car and wakes up in 1973. And that's what listening to Stone Sole River is like.
The album opens with brief psychedelic noodlings a la Floyd before a ponderous three-piece heavy riff number (aptly titled Heavy Stone) kicks in. It's a definite throwback with an almost 21st Century Boy riff. The sound is early seventies when a three piece sounded just that – guitar, bass and drums – each instrument clearly identifiable in the mix.
It's a powerful sound – think Sabbath, Budgie and that generation of heavy rockers. And Stone Sole River have performed with many bands of that era – Blue Oyster Cult, Mountain and Wishbone Ash to name but a few.
Elsewhere, Fallen and Fractured Light add melody of the Greg Lake, Asia genre and Michelle Caddick adds effective backing vocals. Ghostwalk and Dragonfly have a lovely acoustic delivery and Tapestries is a stonking blues rock number. But for the most part it's three-piece rifferama heaven. Tannhauser Gate is the 10 minute centrepiece opus that throws just about every classic rock style into the mix.
Terra Mama is Stone Sole River's debut and covers hard rock, progressive blues, psychedelic folk and everything in between. It's hardly original, but what is anymore? It's the quality that counts. Had Stone Sole River been setting out in the early seventies the future might have been bright. But in 2006, I'm not so sure. But if your preference is living in the past, look no further.
****
Review by Pete Whalley
Tannhauser Gate
© 2006 Stone Sole River. All rights reserved.
***** Out of this world | **** Pretty damn fine |
*** OK, approach with caution unless you are a fan |
** Instant bargain bin fodder | * Ugly. Just ugly
get ready to rock is a division of hotdigitsnewmedia group
Why should I buy this CD?

If you like your rock uncomplicated, you think Houses Of The Holy was the last great album released and you think a four piece is over engineered.
Burn baby burn

Tapestries, Tannhauser Gate, The Shape I'm In