STEVE WALSH 'Shadowman'
Muse Wrapped Records/Frontiers FRCD249 (2005)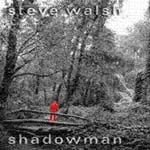 The new solo album by Kansas's Steve Walsh provides a few surprises, none more so than the opening track 'Rise' that features power/speed metal drumming and riffing.
At first I thought I had put the wrong CD in my player! But it soon pans out into a very catchy rocker, with drummer Joe Franco (ex-Twisted Sister) certainly making his mark. The title track is possibly the weakest track on offer and reminded me a lot of the Kansas tune 'The Preacher'.
'Davey and the Stone That Rolled Away' is one for all Kansas fans – big epic chorus and a wealth of keyboards. Collective Soul's Joel Kosche lays down some understated guitar solos throughout the album and Joe Franco adds to the album's depth rather than steal the limelight.
'Keep On Knockin' is possibly the best Steve Walsh solo track in his career. Extremely catchy chorus driven along by a wonderful string arrangement by Symphony X's Michael Romeo (he also adds strings to two other tracks on the album as well).
The acoustic guitar led 'Pages Of Old' is this album's 'Dust In the Wind' and gives a nice breather before the hard rock of 'Hell Is For Heroes'. The nine minute epic 'After' again features some epic strings plus former Kansas violinist David Ragsdale guests on this track as well.
Simply a wonderful album, which is sure to please all Kansas fans. Certainly deserves a place in any prog rock/melodic rock fan's CD collection.
****
Review by Jason Ritchie
Keep On Knockin'
© 2005 Muse Wrapped Records/Frontiers. All rights reserved.
***** Out of this world | **** Pretty damn fine |
*** OK, approach with caution unless you are a fan |
** Instant bargain bin fodder | * Ugly. Just ugly