STEVE JOLIFFE 'The Bruton Suite'
(Voiceprint VP280CD)(2003)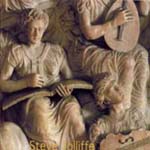 Steve Joliffe was a member of Tangerine Dream in the early seventies, and he's carved his own niche ever since for wonderful soundscapes and decidely new ageish offerings.
The Bruton Suite was inspired by the place where Joliffe was living at the time, a church. It's an expansive 18-part work that is orchestral in concept and execution. If you have an ear for the grand masters of the baroque, notably JS Bach and Vivaldi, you will find this work intriguing. This might not be so uncomfortable for the uninitiated as Bach has been called the father of rock 'n' roll.
Elsewhere, Joliffe's timbre is high renaissance, with the keyboard taking the lute part and conjuring up an image of Merrie England. A difficult album to market, no doubt, but if you're into the Rick Wakeman school of keyboard wizardry you will find much to please here.
***
Review by David Randall

Septimus
© 2003 Voiceprint. All rights reserved.