THE STEVE HARLEY BAND 'Anytime! A Live Set'
Gott GOTTCD020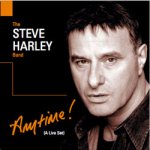 The original Cockney Rebel has several parallel careers, this one is more acoustic (although he does electric guitar backup), recorded in 2003. Opener 'Mr Soft' has an uptempo quirky offbeat, while the violin on 'Mirror Freak' adds an interesting if moody touch.
Ballads, rockers and acoustic strumming, all the styles explored do nod back to the pub rock roots, and many emphasise Harley's songwriting.
Of course there's the obligatory 'Make Me Smile (Come Up And See Me)' which does work rather well (although Harley does amend his vocal arrangement back to that of the original).
Thoroughly enjoyable, but probably more for the fans.
***
Review by Joe Geesin


The Last Feast
© 2005 Gott Discs. All rights reserved.