STEVE FISTER Dodgin Bullets 2nd Degree Records 205 (2005)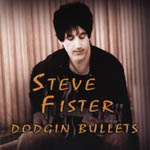 Power blues rocker Steve Fister is a fiery blues rocker with enough fiery licks in his locker plus some killer hooks to get noticed in the rock field.
South Californian Steve originally made his name as guitarist with 80's rocker Lita Ford, and has spend a considerable part of his career laying down his fine guitar in the company of heavyweights like Pat Travers and John Kaye's Steppenwolf.
'Dodgin Bullets' is Steve's Euro debut release, albeit he has issued four albums back in the states. And it's pleasing to report that this hard working, hard touring guitarist has much to offer the Rock Blues market.
Essentially a power trio Steve opens the album impressively with an array of steely licks, crunching chords and an impressive chorus on "She Ain't Lonesome", and adds a brace of blues rockers with U2's 'When Love Comes To Town' and his own impressive Gary Moore styled 'Master Plan'. The following guitar driven 'Won't Fall Down' is essential Fister, with lashings of searing guitar and some nice use of his wah wah pedal.
If there's a down side it's simply the old chestnut of the triumph of the player over the song writer, but I'd venture that given his heavy touring schedule Steve Fister will appeal to all lovers of AOR and Rock Blues fans alike. Steve neatly covers the waterfront on the high energy shuffle 'Zig Zag Talk' on which he adds some Steve Vai style mangling to his blues sensibility, and finds room for a funky rendition of the Lennon McCartney 'I Call Your Name'. The impressive slide guitar on 'In A Past Life' merely confirms Steve Fister as potentially a rocker for every palate.
***
Review by Pete Feenstra
Better Days (We Can Work It Out)
© 2006 Steve Fister/2nd Degree Records. All rights reserved.