STEVE FISTER 'Between A Rock And A Blues Place' (Provogue PRD71452) (2004)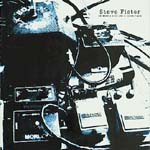 I love this CD, Steve is a versatile guitarist straight out of the Tommy Bolin, Robben Ford mould. 'Between A Rock And A Blues Place' is an apt label as the music sits right in the middle pocket – aggressive when it needs to be, but always retaining its blues integrity.
'Foolin' Me' is the opening track and is a corker - with 'in yer face' lyrics and vocals. The guitar solo modulates from the original song key of A to C and then back to A for a country pickin' bonanza – a nice touch.
Steve's superb slide playing is put to good use on the tracks 'Funny 'Bout The Money' and 'Old Lady Trouble' - both stand-out cuts,
The album features two emotive instrumentals, 'New Beginnings' and 'White Light', the former a moody, late-night groove with a haunting melody, the latter heads down a funkier road that reminds me of a lot of the fusion stuff of the 70s.
I note from Steve's biography that, like myself, he took the guitar teacher route which eventually led him to band-playing from an early age. He has paid his dues with a lot of 'have guitar, will travel' work including two years of arena touring with ex-Runaway Lita Ford. This has no doubt honed his 'chops' that you hear on this album.
In the sleeve notes, Steve states 'people can always tell when you don't mean what you play - I love the guitar and I hope you enjoy this CD' You will!
****
Review by Ray Fenwick
All Said And Done
© 2004 Provogue Records. All rights reserved.
***** Out of this world | **** Pretty damn fine |
*** OK, approach with caution unless you are a fan |
** Instant bargain bin fodder | * Ugly. Just ugly
Guest contributor

RAY FENWICK

Ray Fenwick is one of the true guitar greats. He's had a colourful career, replacing Steve Howe in the sixties band The Syndicats, Steve Winwood in Spencer Davis Group, and enjoying international success with Ian Gillan Band and Fancy. It was the latter band that also featured long-time friend and collaborator Mo Foster and vocalist Annie Kavanagh who also appear on the Ray Russell album.
More recently, Ray has been involved with coordinating many archive releases for Angel Air Records and has also toured with legendary pop producer Mike Hurst.