Welsh rockers mark time...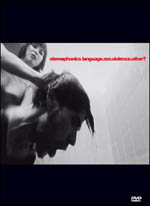 You can't help thinking that this DVD could have been better, and longer. It's not the first filmed account from the band, we've had the live Cardiff gig in 1998, Morfa Stadium in 1999, and 2002's 'Day At The Races'.
All had their merits and pitfalls: Cardiff was a particularly good gig, Morfa had a lot of interviews detracting from the gig, and Day at the Races had interactive elements which enhanced the gig.
This time around we get a 30 minute documentary, which features the band in rehearsal and preparation for the album from March 2004 onwards with new drummer Javier Weyler. Kelly Jones isn't the most expansive of interviewees, and fellow band members and production crew don't exactly set the world alight with their revelations.
The concert, filmed in Manchester(MEN) in September 2005, is atmospheric but perhaps a tad short at just 80 minutes. The setlist is a fairly economical resume of their career highlights including 'Mr Writer', 'Just Looking' and 'Madame Helga'.
A personal Phonics favourite of mine is 'Maybe Tomorrow' from 'You Gotta Go There To Come Back': here in pared back format - with just Kelly Jones and his guitar - it doesn't work quite as well as the album version. Such disappointment sums this DVD up.
Of the 20 tracks featured on the 'Live from Dakota' CD, only half appear on this DVD. The band naturally feature the latest studio album (four tracks) and it comes across well, especially 'Superman' which really rocks, the audience lapping it up. Four album videos complete the package 'extras'.
For fans, then, there will be a need to indulge but there is nothing really out of the ordinary to tempt the curious. Whilst it does show a band in maturity, as a showcase for Stereophonics it falls short. Best seen as a career in progress, and as a satisfactory if lack-lustre visual companion to the album, and the subsequent 'Live from Dakota' CD.
***½
Review by David Randall