STATUS QUO The Party Ain't Over Yet Sanctuary (2005)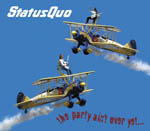 Page 3 girls, cheerleaders and a new Status Quo single – it's like the last two decades never happened
In case you're wondering the first two appear in the video for the new Quo single, in which case you'll want the DVD version, as I doubt it will be appearing on a telly box anywhere near you.
Back to the song, written by John David, it was an American hit for Patty Loveless back in 1998 (and you can find it on her "Long Stretch of Lonesome" album. I suppose it makes vague sense for Quo to be covering chugging country songs, but when they've got Bob Young back writing again, it seems a bit daft. Especially, when the B-side (on the CD single, but not the DVD or 7") is a nice mid tempo boogie with all the old Quo trademark riffs.
Of course, you could always be an old fogie like me, and buy the 7" with a live 2005 version of "Gerdundula" on the actual B-side, and pretend it's 1975. It'll doubtless go Top 20, and just in time for buying a ticket for the annual Xmas tour.
***
Review by Stuart A.Hamilton