STATETROOPER 'The Calling'
CIC Records (2004)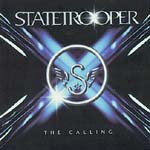 Here is Statetrooper's second album - a mere 17 years after their debut! Of the 1987 line-up vocalist Gary Barden (ex-MSG), guitarist Jeff Summers and drummer Bruce Bisland (now also in the Sweet) remain, being joined by guitarist Martin Mikkels and original bassist Jeff Brown as special guest. Michael Voss (Silver/Demon Drive) produces the whole album and the sound on some tracks is very reminiscent of the excellent Silver albums, which is hardly surprising as Gary Barden sings on those as well.
The title track gets things underway in fine style being a riff heavy and a harmony filled chorus. This would make a good single, along with 'Marionettes' which is another fine radio friendly rocker (with whistling!). 'Casablanca' could have come off a Silver album and highlights Barden's melodic vocal range. 'How Does It Feel' enters power ballad territory but retains some clout via the guitar. Only 'Twilight's Last Gleaming' seems pedestrian when compared with the other songs on here. Summers and Mikkels add some cracking riffs throughout plus tightly played solos that keep within the song, rather than detract from it.
A superb comeback and a 'must have' for any self-respecting hard rock fan. Just like UFO, Statetrooper prove that classic hard rock never goes out of fashion and can still sound fresh. What with the debut re-released on Escape Music it's a good time for Gary Barden and Statetrooper fans. Just hope they don't leave it 17 years for album number three!
****
Review by Jason Ritchie
Band website
Related>>Jeff Summers, interview
Album review
How Does It Feel
© 2004 CIC Records. All rights reserved.