STACKRIDGE Purple Spaceships Over Yatton - Best Of
Angel Air SJPCD228 (2006)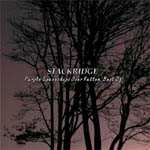 Formed back in 1969 Stackridge covered many musical genres and have become something of a cult band amongst music fans, not unlike say the Incredible String Band.
They really do cover all musical bases from the sublime folk tinged instrumental 'Lummy Days' through to harmony soft rock of 'Friendliness' - very CSNY.
Then you have 'Do The Stanley' which sounds like a Monty Python musical number! 'Coniston Water' with its sax verges into jazz rock territory.
The title track was re-recorded especially for this compilation making it an enticement for fans of the band getting this release.
One for collectors of quirky English rock/folk bands of the 70's and the good news for dans is that Angel Air will be releasing their back catalogue.
***½
Review by Jason Ritchie
Dora The Female Explorer
© 2006 Angel Air Records. All rights reserved.
***** Out of this world | **** Pretty damn fine |
*** OK, approach with caution unless you are a fan |
** Instant bargain bin fodder | * Ugly. Just ugly
get ready to rock is a division of hotdigitsnewmedia group