SPOCK'S BEARD 'Octane' Inside Out (2005)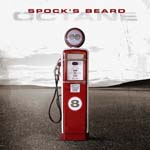 "Is there any life left for this band after Neal Morse?" This is the one thought that's been in the mind of every Spock's Beard fan ever since their founder and main composer decided, back in 2002, to follow a solo career instead of being a member of this amazing Progressive Rock outfit.
The remaining four members of the band (Nick D'Virgilio: vocals/drums, Dave Meros: bass, Alan Morse: guitars/vocals and Ryo Okumoto: keyboards) did not lose any precious time. One years after Morse's departure, they released "Fell Euphoria" - an album that followed a slightly different musical direction than that of the amazing "Snow"(2002).
"Fell Euphoria" was less complex and technical than it's predecessor, and had a certain Hard Rock feeling, which was not well received by the hard core fanbase of the band.
Two years after that release, the four musicians entered Rich Mouser's studio and recorded their eighth studio album, which is called "Octane".
If you are one of those people that found it difficult to cope with the new musical approach that the band inherited in "Feel Euphoria", then it is almost certain that you will not get extremely excited by "Octane's" twelve new compositions either. The reason is that Spock's Beard decided to invest a little bit more on an emotional level instead of consuming their creativity in technical/progressive rhythms, which were featured in large quantities on their first six albums. Is there something wrong with that?
Not if you still manage to create music from the heart, and that's exactly what this band did in "Octane". The influence of bands like Pink Floyd and Genesis (from their most melodic days) is now more evident than ever.
I urge you to listen to songs like "She is Everything", "Of The Beauty Of It All" and "There Was A Time" where D'Virgilio's mature and very melodic voice meets the "sorrowful" sounds of Alan Morse's six string guitar - the result is simply amazing.
You also have compositions like the opening track "The Ballet of the Impact" - a song that's based on a lovely mellotron sound which should make a good impression on all people who like good quality music. This song could have easily belong on any Eloy album, especially in "Power and Passion" or "Dawn", and that's definitely a compliment.
Spock's Beard were always praised as one of the best Progressive Rock bands - are there any songs on this album that will help them to continue carrying that title with pride?
There are three songs that are closer to the "old spirit" of this band, "Surfing Down the Avalanche", "The Planet's Hum" and "NWC", with the latter being the most impressive of all - a song that will become quite appealing to many Dream Theater fans.
Well, life goes on ladies and gentlemen. If you are Neal Morse's devotees, I suggest that you stop being so critical about the "new" Spock's Beard and give them a break. I also want to remind you that the "hymns of the past" that you so much like to refer to in your many critical reviews, were also composed by the four musicians.
Do you want to do yourselves a big favour? Go and get a copy of this album, but before you play it on your stereo, try to leave the past behind. You'll be amazed by the result.
****
Review by John Stefanis