SPENCER DAVIS GROUP 'Live In Manchester 2002 '
Angel Air SJPCD131 (2004)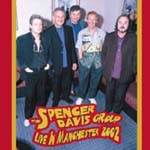 Guitarist Spencer Davis has kept his band going for many years now, with several hits along the way.
The band has existed in various guises, but here the band features long time pianist Pete York, drummer Eddie Hardin (who had a distinguished career with York), guitarist Miller Anderson and former Whitesnake bassist Colin Hodgkinson.
The hit 'Keep On Running' opens the show, and other numbers include 'When I Come Home' and 'Iím A Man', and even 'House Of The Rising Sun' gets a run through.
To close we get the excellent 'Gimme Some Loviní, which really helps save the show, as many of the earlier songs are just done so nicely. Think Procul Harum. Excellent musicianship throughout, just a little tame in places.
If youíre a fan itís a good and enjoyable set, if a little reliant on past glories.
***
Review by Joe Geesin


£12.99
Keep On Running
© 2004 Angel Air Records. All rights reserved.