SPEEDY GONZALES Electric Stalker Metal Heaven 00014 (2006)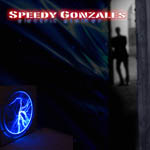 Formed in 1990, with a rather silly name. Ups and downs aplenty we finally get a full album, with original guitarist and songwriter Tommy Denander back in the band.
Another four piece (the occasional keyboards are uncredited), itís fairly typical and quite ordinary metal. Some of the guitar riffs could easily come from a modern southern rock band, others from Iron Maiden or Judas Priest, so thereís an element of fun and enjoyable metal, but itís really nothing to write home about.
'Desires Of The Flesh' stands out. Good, but no cigar.
**½
Review by Joe Geesin

Do You Know Where The Kids Go
© 2005 Metal Heaven. All rights reserved.