SPACE ODYSSEY 'The Astral Episode'
Regain Records(2005)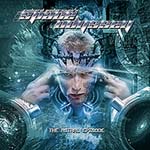 How many times have you been told of the importance and the influence that a good family environment has in the upbringing of a person? Quite a few, I suppose. Now, I can refer to dozens of examples if I'm ever to be asked by somebody, but for the time being I will stick to the one that's most relevant to this review - that of Richard Andersson.
Richard's father was a musician whose favourite instrument was the organ. You can understand of course that, from a very young age, the youngest member of the Andersson family was "exposed" in the works of great classical composers such as Bach, Vivaldi and Mozart. He was only seven years old when he bought his very first record, which was "Eine Kleine Nacht Music" by Wolfgang Amadeus Mozart, an album, which signed the beginning of his long-term "relationship" with music.
Richard is mostly known to the Metal world by his contribution with the bands Majestic and Time Requiem, both of which were progressive Metal orientated outfits. A new chapter started in the musician's career when he first met up with guitarist Magnus Nilsson. Together they decided to create Space Odyssey - a band whose music would combine the technical knowledge and skills of progressive Rock/Metal music with the feel and vibe of classic Hard Rock/Metal bands like Rainbow, Black Sabbath and Rising Force.
What they desperately needed was a charismatic vocalist, which they managed to find in Nils Patrik Johansson - a very talented musician who has also participated in Astral Doors, Wuthering Heights and Lunatic Parade. With the addition of Zoltan Csorsz (drums, The Flower Kings) and Marcel Jacob (bass), the first Space Odyssey line up was created - a line up that produced the band's debut album "Embrace the Galaxy" in 2003. Two years later, Andersson has created enough ideas to release a second Space Odyssey album. This time, Zoltan Csorsz services were not available due to his commitment to The Flower Kings, so he was replaced by a phenomenal 17 year-old drummer called Andreas Brobjer. It was this time decided that Magnus Nilsson would also handle the bass guitar duties, which meant that Space Odyssey were to become a quartet for the very first time. In late 2004, the band entered Andersson's personal home studio and recorded the second chapter in the band's discography "The Astral Episode".
Even though I have listened to this album more times than I can possibly remember, I am still amazed with the quality of the eight compositions, which are featured in this release. The reasons are too many, but let's start by mentioning the amazing vocal abilities of Nils Patrik Johansson. This is not the first time that I am "exposed" to the work of this singer, since I did last year a review for the last Astral Doors album. That doesn't mean anything though by the end of the day. Johansson is one of the very few frontmen that I know whose voice can be similar with that of Ronnie J.Dio and Tony Martin (ex-Black Sabbath) in one song. That exact element, combined with the multi-influenced compositions that both Andersson and Nillson have prepared for you people, makes "The Astral Episode" an offer that you simply cannot refuse.
If you decide to buy this album, you are guaranteed one thing: fifty-three minutes of unpredictable, good quality music. I liked all eight compositions of this album, simply because each and every one has something different to offer. Fans of Ronnie James Dio will particularly like "Back to the Dark" - a song that has a similar structure with "Shame on the Night". Being a huge Black Sabbath fan of the Tony Martin era, I was quite attracted by "Astral Episode". This song brought back memories of the amazing Headless Cross and the general atmosphere that most of the Heavy Metal releases has in the late 80's. For all of you, who are more into the progressive side of music and bands like Symphony X and Dream Theater, I suggest that you listen to "Presence of Mind" and "The Seventh Star Fantasy" - songs which reveal the great musical knowledge and talent that both Andersson and Nilsson possess.
OK, let's make a summary of what Space Odyssey's new album is all about, and why you should invest in it. "The Astral Episode" is one of the few albums that have brought together the old and the new - the classic Heavy Metal of the 80's with the Power/progressive music of the 21st century. That did not happen by any accident - the four musicians that put together Space Odyssey have managed to create an album of a similar, if not of higher quality, with the ones that feature a variety of well-known Rock/Metal artists and which have bombarded the music market in the last five years. Now, are you not convinced yet?
****½
Review by John Stefanis