SOUL AYSLUM Silver Lining Legacy (2006)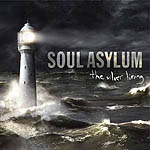 First new studio set in 8 years. Worth the wait? Well, if you're a fan, on first listen it's a yes.
These are also the last recordings of Karl Mueller, who died of cancer last year shortly after the recordings.
Opening with 'Stand Up And Be Strong', we get a straight hard rock sound with a slight acoustic, indie and commercial edge all rolled into one.
The rhythms are light, catchy, memorable, and in places sleazy.
'All Is Well' is in direct competition with a lot of young guitar/boy bands, only done better (not difficult).
Catchy commercial, original and cliché, and dirty all rolled into one. Top Soul Asylum, with a polished and high class sound.
****
Review by Joe Geesin