SOUL ASYLUM Closer To The Stars: Best Of The Twin Tone Years
Rykodisc RCD10842 (2006)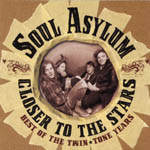 American new wave / post punk / post modern rock, whatever you want to label these guys, the became widely popular in the 80s and onwards. This collection covers material from their first handful of albums in the Twin/Tone label. A mix of styles, combining hard rock with a range of styles, before the band really settled down.
The cover of Juke Box Hero is one of the stand out tracks, and Stranger equally strong. Bob Mould handles some of the production too. But like any typical compilation, it doesnít always give a good overall picture of the bandís best work.
A couple of EP tracks make it a good selection, but the picture free 2 page booklet is rather on the light side. As for the music, itís pretty hard to label, itís just Soul Asylum. Pre grunge guitar rock/pop American Style.
A good introduction to a limited era, but could be more extensively packaged.
***
Review by Joe Geesin