SONIC YOUTH The Destroyed Room: B-sides and Rarities Geffen Records (2006)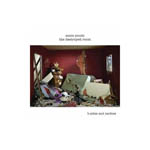 New York's avant-garde specialist Sonic Youth follow up their critically acclaimed Rather Ripped with this collection of band chosen tracks previously available only on vinyl, limited release compilations and b-sides.
It opens with a chaotic and discordant 10 minute work out Fire Engine Dream, an outtake from 2003's Sonic Nurse. And that pretty much sets the scene for most of what's on offer here – what some might consider self-indulgent meanderings.
Maybe it's me, but this is so far off mainstream that I just don't get it. But then isn't that what avant-garde is about? But that shouldn't put off fans who will no doubt lap this up.
The compilation spans the band's Geffen years form 1994 through to 2003 including two Japanese bonus tracks from Sonic Nurse (Kim's Chords and Beautiful Plateau) and perhaps the most accessible track – a 25 minute LP version with an alternative ending of The Diamond Sea from 1995. But even that track, while it starts quite delicately, descends into a maelstrom of sonic chaos.
For fans only.
**
Review by Pete Whalley