VARIOUS 'Songs For Luca' (Open VP999CD)(2003)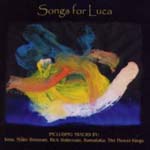 There's a poignancy attached to this double-album release, with artists donating tracks to raise funds for the autistic son of Dave and Debbie Bainbridge. Dave is the guitarist with Celtic prog band Iona, and understandably there is a Celtic and ethereal feel to many of these tracks. If they raise awareness of autism and the work of the Son-Rise program in the States, and help Luca receive treatment, the project will have been a success.
However, it is no minor achievement to have coordinated so many disparate musicians and in some cases the artists have donated otherwise unavailable or reworked pieces. The participants read like a veritable who's who of Celtic and New Age rock(including Maire Brennan, Rick Wakeman and Karnataka) so if that genre is your bag you will want to investigate this.
From the gently funky 'Open Sea' from Eden's Bridge, via Flower Kings (the unreleased 'A King's Prayer'), several contributions from ex-Kajagoogoo bass player Nick Beggs and the Bainbridges themselves either solo or with Iona (with a particularly fine live version of 'Man'), the album is full of twists and turns. As with all the best compilation albums, it will prompt you to investigate some of the artists' work further. Essentially, though, it can be regarded as Celtic chill-out, and a painless way to help a worthy cause.

Open Sea (Eden's Bridge)
© 2003 Voiceprint. All rights reserved.
****
Review by David Randall