SNOWY WHITE & THE WHITE FLAMES Little Wing
Voiceprint VP396CD (2006)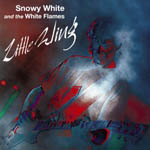 The former Thin Lizzy guitarist releases this new album of very enjoyable if lighter edged rock.
Opener 'Discoveri' is an instrumental jazz fusion number, 'Long Distance Loving' features some good guitars and vocals, a funky number with a bass line straight out of Talking Heads' 'Psycho Killer'.
Think variations of AOR with good guitar and without the commercial polish. Some good sounds from a 3 piece band, and at times some heavy guitar. There's also an arrangement of the Hendrix track 'Little Wing' which some will enjoy; done as a 'Touch The Rainbow' ballad style.
***
Review by Joe Geesin