SNOWY WHITE 'The Way It Is'
Voiceprint WFVP001CD (2005)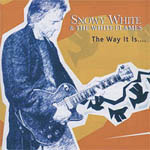 Aside from one pleasant hit single, 1984's 'Bird Of Paradise' Snowy White is probably best-known for his session work (Pink Floyd, Peter Green) and helping out Phil Lynott in a latter-day Thin Lizzy.
On this recent recording it perhaps comes as no surprise that we get a new arrangement of the 'hit'. But we also get a new take on 'Black Magic Woman' and some heavyweight help in the shape of drummer Richard Bailey and Max Middleton (keyboards) who've played in Jeff Beck's band and the great 'Rabbit' Bundrick.
Often guitarists make a real fist of solo albums: they are either over-blown or they reveal that they can't actually write good material for themselves.
Snowy White is an exception, this album swings in the nicest way possible and his guitar style is charmingly restrained and tasteful. Moreover, there are some good tunes notably 'What I'm Searching For', 'Angel Inside You' and 'Falling'.
White's vocal style is similarly laid-back and Steve Miller, Robben Ford and Eric Johnson come to mind. The overall feel to the album is Latin-blues tinged and the exemplary musicianship on offer makes this a really cracking little release.
It's one of those albums that if you heard it on the radio or in the background in a record shop you'd want to ask who it was. And you'd probably buy it.
****
Review by David Randall

What I'm Searching For
© 2005 Voiceprint. All rights reserved.
***** Out of this world | **** Pretty damn fine |
*** OK, approach with caution unless you are a fan |
** Instant bargain bin fodder | * Ugly. Just ugly
get ready to rock is a division of hotdigitsnewmedia group
Like this, try this:

ERIC JOHNSON