SLAUGHTER Then And Now
(Silverline Records 288220-9)(2004)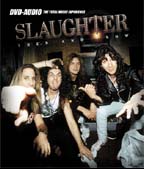 I'll start this review with a quick note about the comment I usually hear most about Slaughter, which is Mark Slaughter's voice. If you are one of those people that find Mark's voice quite akin to nails on a chalkboard, this release will be no different for you. If not, you will find some pretty rockin' hair-era type tunage here.
I think the worst thing about this DVD-A, being a compilation, is the omission of any material from the band's years on Chrysalis, which includes everything from their 1990 debut "Stick It To Ya" thru 1992's "The Wild Life" after which they made the switch to CMC International Records. The two exceptions would be live versions of "Up All Night" and "Fly To The Angels" which were taken from the band's 1998 release "Eternal Live" on CMC. This was also unfortunately guitarist Tim Kelly's last recordings with the band, as he died in an automobile accident after these recordings were made.
Beyond the drawback of no early material here, this is a pretty good little collection of songs. Some fans are probably already familiar with this material, as it was released in CD format in 2002.
Not many surprises to be found here as far as the material goes. It all fits in neatly with the type of RnR you have come to expect from the band. The first cut "Get Use To It" for some reason makes me think of the band Cinderella, can't quite put my finger on why though.
One song that stands out as a little odd compared to the rest of the tunes here is "American Pie." It is a little more subdued and bluesy than the normal straight ahead rockers found on the rest of this disc. A note on the live stuff...it sounds like Mark went back and dubbed in some backgrounds in a studio with his voice. Either that or they were using pre-recorded backgrounds during the live shows. Not that there is anything wrong with that, since everyone from Aerosmith to Shania Twain is doing it, why shouldn't Slaughter?
In addition to all this, since this is a DVD-A, you also get some pictures of the band and a band bio. Overall I think this disc is quite good. My only real complaint is the exclusion of all the band's early studio work. But there are other compilations out there (such as 1995's "Mass Slaughter") that cover that ground.
****
Review by Gary Richie