SKID ROW Live And On Song HUX075 (2006)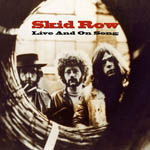 Skid Row will always be remembered for spawning an early Phil Lynott but, in truth, the Irish rock journeyman jumped ship very early on in the band's short history.
This excellent archive gem from Hux brings together rare singles and the surviving BBC radio concert, recorded in 1971.
Of the early singles 'New Places, Old Faces' (with Lynott on vocals) and 'Misdemeanour Dream Felicity' were classic slabs of acoustic jazz rock with folk flavours. Very late sixties.
'Saturday Morning Man' sounds like Traffic on a good day whilst 'Mervyn Aldridge' is more of a jazzy groove.
All the singles were originally released on a small independent Dublin label Song Records and produced by Donal Lunny who became a folk performer in his own right with Planxty.
Guitar maestro Gary Moore is the other major 'name' to be linked with Skid Row and replaced the band's original guitarist in 1969. Moore lent a jazzy rock colour to the proceedings, especially evident on the live version of 'Felicity'.
The 1971 BBC gig features three tracks, the long 'Christian Blues Brother' replete with over-long and not very interesting drum solo. (Note, the live track listings and timings are incorrect).
A worthwhile bite of rock history from the land of blarney.