VARIOUS 'The Sixties Album ' Sanctuary TLSAN011(2004)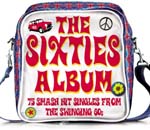 For those of a certain age, this 3-CD set is like switching on the radio and hearing Radio Caroline again.
In short, it's one helluva nostalgia trip. There's 75 tracks, and the emphasis is on British pop. Disc 1 features some evocative stuff like 'Needles & Pins' (The Searchers) and 'The First Cut Is The Deepest' (PP Arnold).
Disc 2 is full of airplay 'hits' from the Flowerpot Men ('Let's Go To San Francisco') through Honeybus ('I Can't Let Maggie Go') to the ubiquitous Max Romeo whose cod-reggae 'Wet Dream' was banned from the BBC.
The third disc is more American orientated and is perhaps the least accessible. However, it's bound to strike a chord with some baby boomers who will recall twisting to Chubby Checker or the shock-horror of The Shangri-Las 'Leader Of The Pack'. It's rounded off with the Thunderbirds theme which is redolent of the decade, but perhaps a bit oddball in an otherwise radio-orientated collection.
Disc 3 is, therefore, a bit iffy and accounts for the three star rating, but overall this isn't a bad collection for those who want to revel in nostalgia or simply want a soundtrack to a significant decade.
***
Review by David Randall