ELLENBY Runaway EP
Ellenby are Ben Goddard and Liz Young - a London based folk duo. And their Runaway ep is a taster for their debut album All You Need To Know that is set for 2006 release.
Runaway is English folk – acoustic, a gentle beat – Liz's vocals pure English Rose – soaring and clear. They remind me of someone, but I can't think who. Possibly - Nothing By Chance a little known duo from the early 1990's. It's nice song.
Screaming is piano/strings based with a rock (yes, rock) mid section that appears out of nowhere and I'm not convinced it works. The Dare has that Dylan sound (acoustic / harmonica) and All You Need To Know is another piano based ballad with multi layered vocals.
I can see Ellenby being popular on the folk circuit, but to be honest the competition's pretty fierce. What they need is some material that will make them stand out from the crowd. Unfortunately what's on offer here is unlikely to. ***
Reviewer: Pete Whalley
SPRAYDOG Allison Blaire
Spraydog have been producing garage rock for the past 10 years. Their publicity gives you a pretty damn good feel for what Allison Blaire sounds like – lo-fi / punk / diy / shambolic / Peel sessions.
If any of these, or any combination makes your nipples harden – investigate. If, like me, it leaves them entirely flaccid – avoid. **
Reviewer: Pete Whalley
SIGUR ROS – Hoppipolla EP
Sigur Ros are something of media darlings who can do no wrong at present and Hoppipolla is the first single taken from their acclaimed Takk… album.
It's a delicate number – piano, backward string loops and real strings, multi layered vocals (falsetto, with lyrics about jumping into puddles and nosebleeds) that build to a crescendo of brass, orchestra and 'tinkly things'. It's also their most commercial offering to date, although I'd be amazed if it made any impact on the charts. For one, it's basically an ambient number (think Moby) and for two, it's sung in Icelandic.
But what might tip the scales is that it features (although not on the promo copy) two 'lost' tracks - Von and Hafsol from the recording sessions for their first album which have become gig favourites. So it may be worth tracking down if you're a fan. ***
Reviewer: Pete Whalley
KATIE MELUA I Cried For You(2005 CDS)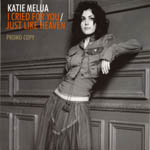 To be fair, there were some decent moments on Katie's debut album and her last single – Nine Million Bicycles - wasn't bad either.
I Cried For You is the second single released from her Piece By Piece album and its an orchestral ballad – sugary sweet vocals and plenty of strings. I can't see it being a hit – it's too like something Andrew Lloyd Webber would come up with. Which is hardly chart material. Beautifully arranged and produced by Mike Batt, mind you.
Interestingly, the double A side is a Robert Smith approved cover of the Cure's Just Like Heaven. It's far more accessible – Katie's vocals floating instead of cloying and there's plenty of nice lead (acoustic) guitar work. An excellent track and the soundtrack from a Reece Witherspoon film of the same name opening in December.
So a thumbs up to Just Like Heaven and a thumbs down to I Cried For You (unless Andrew Lloyd Webber ballads are your thing). Wombles – The Musical – now there's an idea. ***
Reviewer: Pete Whalley
VARIOUS 'Ever Fallen In Love?' EMI (2005 CDS)
A tribute single to the late John Peel featuring various artists re-recording the Buzzcocks classic (the original is included on here as well). It's a weird and wonderful of mix of established rockers like Roger Daltrey, Robert Plant, the Buzzcocks' Pete Shelley and Dave Gilmour and new bands such as the Soledad Brothers. It works well with each artist taking a line in the song and it makes for a fitting tribute to a true pioneer of new bands and music. Even better the proceeds go to Amnesty International. ****
Reviewer: Jason Ritchie
Video streams:
Hi (Real Media)
Lo (Real Media)
Hi (Windows Media)
Lo (Windows Media)
NADIE 'Indifference' Hal Records (2005 CDS) www.halorecords.co.uk
Oh no not another rock girl vocalist with comparisons to Avril Lavinge and Alanis Morissette but luckily Nadie is much better than that (not that it is hard to sing better than Avril Lavinge!). The title track explodes into your ears with a mix of Led Zep riffery and full on vocals – Nadie has a very powerful but tuneful voice. A great, catchy song destined for success. The other track on here, 'Be A Man' is the exact opposite being a gentle ballad and highlighting what a wonderful voice Nadie possess. Her debut album will be one to hear that's for sure. ****
Reviewer: Jason Ritchie
THE FONDAS 'Be Alone' Levelsound Music (2005 CDS)
The band who term their music as 'slum rock', although to these ears it's more Feeder rock! Not a bad tune – driving bass lines, jangly guitar mid-way through the song – but nothing really 'wow'. I would imagine live they are very good though as this tune would sound much rawer live. ***
Reviewer: Jason Ritchie
CHAPTER XIII 'The Last Time' Levelsound Music (2005 CDS)
Five piece from Bristol (UK), home to the magnificent Undercut and Chapter XIII are well worthy checking out. This single will appeal to those who enjoy atmospheric goth tinged metal but thankfully not the cut 'n' paste female fronted bands who are currently flooding the market. It even has a hint of Led Zep in the arrangements. Very good song and I am going to track down more about this band. ****½
Reviewer: Jason Ritchie
HEY NEGRITA 'Old Britannia' (2005 CDS)
This is the second single lifted form the band's debut album 'We Are Catfish'. The music is folk with a tinge of country, especially on 'Old Britannia', which to me sounds like the Divine Comedy doing a southern rock ballad! 'Down the River' is a very gentle acoustic based number, again with a southern rock hint and Widespread Panic comes to mind sound wise. Not a bad little collection of tunes and Hey Negrita at least have there own sound and some wonderful harmony vocals. ***½
Reviewer: Jason Ritchie
CIRCUS NORMAL 'Circus Normal EP' (CDS 2005) www.circusnormal.com
Welsh rockers who have been gaining some favourable reviews but for me they sound a tad too derivative with their blues based rock. Nothing really leaps out at you bar 'Ride', the slower song on this EP. Maybe good for some but I'll pass… **½
Reviewer: Jason Ritchie
SILVER SUN 'Immediate' (2005 CDS)
Silver Sun are definitely a band to investigate further especially if you enjoy the music of bands like Jackdaw 4, latter day XTC, Farrah and Cheap Trick. 'Immediate' is ultra catchy quirky pop rock, very melodic and some gorgeous harmonies on the choruses. 'Dance With Me' is a rock 'n' roll based stomper and one to dance madly around the place to! The third track on here 'Sweet Baby' sounds like Buddy Holly meets Weezer!
Great stuff and a band who will have a bright future given that lucky break. ****
Reviewer : Jason Ritchie
GIRLSCHOOL 'Emergency'/'London' (Download only 2005) www.girlschool.co.uk
This is a 25th anniversary re-recording of their classic 'Emergency' and it is downloadable only! Girlschool have certainly had a rollercoaster career and they are finally getting the credit they so richly deserve. Worth a download as proceeds go top the Essex Air Ambulance and you can catch them supporting Motorhead in the UK right now. ****
Reviewer: Jason Ritchie
KORN Twisted Transistor Virgin (2005 CDS)
Marilyn Manson-esque industrial-tinged metal that is actually rather good.
This song is no-doubt designed for the drunken metal dancing masses and is sure to be hit at metal clubs world-wide.
It's catchy with great choruses and rather likeable. Consider this is coming from someone who never liked Korn that is meant to be high-praise indeed.
It seems the departure of "Head" for the God squad has been the kick up the arse the band needed.
****
Reviewer: Marty Dodge
Video Links:
Real Media Hi
Real Media Lo
Windows Media Hi
THE CONWAY STORY Photogenic IRL (2005 CDS)
On occasion a reviewer finds himself more keen on the b-side than the a-side. This is one such case.
The former is whiney indy rock track that really does not ever get going and is a wee bit dull at times.
The mellow of acoustic 'October' has far more impact as it demonstrates this lot can play, write a cracking tune and the lead singer has a pretty decent voice. The violin is a nice touch as well.
***
Reviewer: Marty Dodge