SHELBY LYNNE 'Suit Yourself' EMI (2005)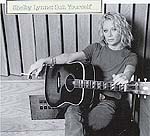 I've long been partial to a bit of Shelby. Once upon a time a southern country gal but long since crossed over to more mainstream tendencies.
Two of her previous releases grace my collection - I Am Shelby Lynne, and Love Shelby. Both have similarities - they're both short, both encompass a range of styles from rock to soul to country and both include some killer tracks. And when Shelby's emotionally charged sultry vocals hit the mark, it's as good as sex.
So we come to Shelby's latest offering - Suit Yourself, her second for Capitol (the first was Identity Crisis in 2003).
The first thing to say about it is that it has a very 'live' feel about it - the studio chatter making this feel very like a band effort.
And like her previous outings Suit Yourself yet again covers a wide riange of styles. The opener Go With It is a rocker, Where Am I Now is a gentle acoustic number which would be a wonderful cover for Rod Stewart (as would several others which have a Killing Of Georgie 'feel').
I Cry Everyday has blues/soul roots and is one of those grab you by the balls songs that ooze sexuality.
The band includes drummer Bryan Owings and guitarist Michael Ward (a former member of the Wallflowers), who have played with her on stage. Owings turned her on to Brian "Brain" Harrison, who handles bass chores and engineered. Tom Petty and the Heartbreakers' keyboardist Benmont Tench and pedal steel player Robby Turner complete the band.
Half of Suit Yourself started as demos recorded on 24-track two-inch analog tape at Shelby's home studio - Johnny Met June, Where Am I Now?, You're the Man, You and Me and Sleep are all original first-take vocals - the other half was cut live in the studio at Brain's house.
Old Time's Sake is another gentle ballad, I Won't Die Alone another up tempo Killing Of Georgie type number (come on Rod, with material like this about forget The American Songbook and get back to covering some decent material) complete with Faces style guitar.
But the best track of the lot is saved for last. Track 12 is temptingly titled Track 12. It turns out to be a slow smouldering version of A Rainy Night In Georgia.
She's got a terrific voice. And yet again there's some terrific material here. Its been said before, but Lynne makes timeless American music. Pure and uncomplicated.
****
Review by Pete Whalley
I Won't Die Alone
© 2005 EMI. All rights reserved.