SHANKAR & GINGGER 'One In A Million'
(Silverline 288043-9)(2003)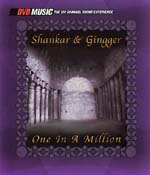 This album is unusual in that it was conceived for the multi-channel DVD-A medium from the start. The sticker on the disc draws in the casual buyer, with luminaries such as Phil Collins, Tony Levin (King Crimson, Peter Gabriel) and Steve and Mike Porcaro (Toto) in attendance albeit sparingly in some cases.
It may seem an unlikely pairing, Shankar (an acclaimed violinist who has performed with Springsteen, Van Morrison and Zappa) and vocalist/violinist Gingger. But this is not a violinists' album. It combines world rhythm and contemporary and frequently funky dance beats. In truth, this album is rooted in the eighties, partly due to the heavy use of keyboard programming. And when Phil Collins is used on harmonies, well, it's got to be an eighties throwback hasn't it?
This DVD-A is a nice production job with a 20 minute artist video documentary, song commentary, biographies and gallery. For those about to unleash their shiny new surround system on unsuspecting neighbours, try this disc for starters, and f-e-e-l that synth rumble!
Artist website
I Don't Care
© 2003 Silverline. All rights reserved.
***
Review by David Randall