Beam me up Scotty...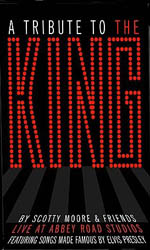 This superb DVD is notionly a fine tribute to Elvis Presley but also a long overdue tribute to his original pioneering guitarist, the legendary Scotty Moore.
He has been such an inspiration for so many guitarists, including myself. This concert was recorded at London's celebrated Abbey Road Studios in front of a very lucky invited audience.
The chosen material is from Elvis' Sun and early RCA periods, without a doubt the 'classic' recording years.
'Blue Moon Of Kentucky' opens the set with Mark Knopfler and Albert Lee singing harmony vocals. Scotty and Mark share the guitar solos, a mouth-watering taster for what is to comr, a collection of over two dozen 'Presley classics'.
Eric Clapton performs 'That's Alright Mama', 'Money Honey' and 'Mystery Train', singing and playing acoustic guitar.
There are many marvellous moments on this disc including Dave Gilmour's rendition of 'Don't' and Albert Lee's version of 'Trying To Get To You', Scotty's innovative playing on 'My Baby's Left Me' and jazz guitarist Martin Taylor's poignant solo of 'Tennessee Waltz'. Could this be a homage to Memphis and Scotty's home state?
Paul Ansell who sings with Scotty Moore's road band, delivers great Elvis sound-a-like vocals on seven songs, including a blistering 'Shake Rattle And Roll'.
In the main, Bill Wyman's Rhythm Kings are the 'house band', sometimes augmented or replaced by guest musicians. Rolling Stone Ronnie Wood also puts in an appearance.
Part of the bonus material is an interview with Scotty Moore which is riveting stuff. He delivers a candid insight into the beginning of the Elvis Presley phenomeneon, plus many gems regarding his own contributions to Elvis' early career.
For the first year Scotty was his manager as well as his wonderfully unique guitar player.
Other features of the 25 minutes of bonus material are an interview with Elvis' old friend and confidante Jerry Schilling, comments from the musicinas in the show, and behind the scenes footage prior to the recording - all excellent additions.
The musicianship thro8ughout is faultless and Albert Lee shines, as always.
Having recently played with Elvis' other guitar player, James Burton, I know what a thrill and honour it must have been for the players to work with one of their inspirational heroes.
Mr Moore, long may you entertain and enlighten us with your guitar magic.
****
Review by Ray Fenwick