SCOTT HENDERSON 'Live' Mascot M7104 2 (2005)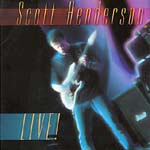 Guitar shredder, cross over jazz fusion guitarist, improviser, tone meister, or angular blues player? You could argue that Scott Henderson fits all those categories. Certainly looking at his history with his own Tribal tech outfit, and given his earlier work with the likes of Joe Zawinul, Chuck Corea and Jean Luc Ponty itís tempting to overlook some staggering playing as being no more than just as another blissed out Californian based fusion guitarist. But that would be to overlook a very individual guitarist with a great band who dip in and out of the blues in the most angular fashion.
As their double Live album suggests the band are happiest when they improvise with Henderson forever threading his colourful tone through the eye of a needle.
The problem that faces a band like this though lies in the genre they play.
So while John McLaughlin was able to take the guitar in a new direction in the Rock field, and Joe Zawinulís Weather Report were ground breakers in the Jazz Rock field, and even Zappa juxtaposed his most oblique guitar phrases in between scatological humour and Doowop, straight fusion players have always had a bigger problem with commercial accessibility. Admittedly Scottís two previous employers Ponty, Corea and even Herbie Hancock did go on to achieve millions of unit sales, but Scott Henderson is a tad more uncompromising.
The opening cut Slidiní leaves you in no doubt as to the bandís adherence to improvised organic aural explorations, and the following heavy duty blues of 'Well To The Bone' provides some impressive accessibility to the untutored ear, but there is a two fold problem. Firstly it has to be Kirk Covingtonís vocals are no match for his brilliant work behind the kit, and although there are soloís of staggering beauty on the guitar thereís too much technical guitar brilliance and not enough blues.
That said, there are moments of sublime restraint as on the oriental sounding intro to 'Jakarta'. Itís a piece full of beautifully distended notes, delicate percussive accompaniment and a tension resolving return to a theme in the outro section. The collective appreciation from a distant sounding crowd is a timely reminder that what you just heard actually happened live on stage.
'Tacos Are Good' closes disc one and shows the band can rock out with the best of them, while the delicate cover of Wayne Shorterís, 'Fee Fi Fo Fum' complete with a strident walking bass line and solo from John Humphrey would impress even the most reticent jazz fan.
But itís a wider audience that Scott and band seek and perhaps itís only with the more obvious blues phrases of 'Devil Boy' which really swings, or even the clever opening of 'Nairobe Express' that marks the way forward, though perhaps without the back line soloís.
Given that Scott Henderson 'Live' is on the guitarist friendly Mascot label, this album might extend his fan base, but thereís still an imbalance between the eclecticism - born of improvisation - and sheer feel, that all fusion player have to address in the end.
***
Review by Pete Feenstra
Well To The Bone
© 2005 Mascot. All rights reserved.