Definitive retrospective of NWOBHM mainstays...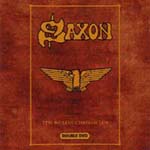 After a few delays the Saxon Chronicles gets a release! It's not bad either as you get two DVD's worth of Saxon bits 'n' pieces. The first DVD is mainly made up of the Wacken festival show from 2001. There is agood mix of classics and newer songs with highlights being 'Motorcycle Man', 'Crusader', 'Solid Ball Of Rock' and 'Strong Arm Of The Law'. The band sound on form and the twin guitar attack of original member Paul Quinn and Doug Scaratt is blistering! Very enjoyable concert, with good sound quality throughout. The bonus on disc one is an interview Biff Byford, which is not bad and takes you through keypoints in the band's history.
The second disc starts with tour footage plus three live songs including '747 (Strangers In The Night)', a song which doesn't feature on the Wacken set. There are eight videos from the early era of 'Suzie Hold On' to 'Killing Ground' from the last album released in 2001. I laughed myself silly watching 'Back On The Streets' (great tune but a real 80's video) and what were the band on when they dreamt up the video plot for 'Rockin' Again'? They are running around a castle dressed in colourful jumpsuits and wielding long sticks. I guess you had to be there! There is also Saxon on TV (including a look around Biff's home with the UK show 'Big Breakfast'), press cuttings and a photo gallery.
All in all an essential purchase for Saxon fans and you certainly get a lot for your money. They are superb live, as I witnessed earlier this year and this DVD captures their live show well.
****
Review by Jason Ritchie
© 2003 All rights reserved.


£17.99