SAXON Dogs Of War SPV SPV74112CD (2006)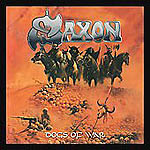 Saxon's work in the 90s is often overlooked, which is a shame, because it often surpasses the 'glory years' of the 80s. This mid 90s set, the last to feature guitarist Graham Oliver, was a move away from the trad metal of old and very now much more a power metal sound.
The opening title track is a real classic, Saxon at their best, a number that's still played live today.
'The Great White Buffalo' is another heavy number, one of many fans and any metal fan should enjoy.
It's not the most consistent album Saxon every produced, but a new step, with Biff Byford on top form, bassist Carted doing a fine job, and guitarist Paul Quinn and drummer Nigel Glockler all playing their hearts out. It formed a template for their next album, the superb Unleash The Beast.
****½
Review by Joe Geesin