SARACEN Vox In Excelso Escape Music (2006)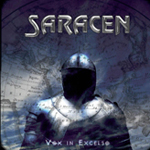 Saracen are back with a new album (their first since 2003's comeback album 'Red Sky') and this time it's a concept album based on the Knights Templar, very topical given the interest in all things 'The Da Vinci Code' at the moment. The mainstays of vocalist Steve Bettney and guitarist Rob Bendelow are still present with a notable addition in former Helloween drummer Mark Cross.
It is classic Saracen - symphonic keys and arrangements, the layered harmony vocals (very similar to the Heep 'choir' at times) coupled with epic guitar solos and strong lyrical ideas. Pick of the album has to be either 'Meet Me At Midnight', a concise rocker Magnum would be proud of and the epic 'Mary', where the band stretch their wings musically. Some good instrumentals fit nicely into the overall flow of the album, although the only bugbear I have is the female narration. It is useful for giving the background to the story but it may have been better to tag it at the start/end of the album as you keep having to fast forward through it after an initial listen.
Existing fans will be delighted at this album as it keeps all the band's trademark sounds and adds another layer particularly in the vocal and guitar arrangements. If you haven't tried this band before this is the album to start with especially if you like classic Uriah Heep and Magnum.
****
Review by Jason Ritchie