SAMSON Tomorrow & Yesterday Angel Air SJPCD219 (2006)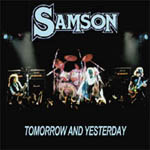 Legendary guitarist Paul Samson formed his own band at the start of the New Wave of British Heavy Metal, and despite a number of compilations, this is the first to really cover his entire career; the set starts with his debut single ďTelephoneĒ from1978 and finishing with a few numbers from the 2000 Astoria show.
Licensing prevents the use of any Bruce Dickenson numbers, but the period tracks that do appear in live form with singer Nicky Moore prove, at least for Samsonís blues tinged heavy metal, that Moore is far the superior singer anyway.
Throughout the 80s (including a solo album and recording as Samsonís Empire) Paul produced some decent metal, and into the 90s thereís some classic stuff too; check out Room 109 for an excellent and catchy riff.
The excellent Mr RockíníRoll and the new Brand New Day, both recorded at the 2000 reunion show with Moore, bassist Chris Aylmer and drummer Thunderstick, prove how good the band were.
Sadly no unreleased material but itís a good set, and the sleevenotes cover the complex history well. Itís worth your money for the history lesson alone.
Sadly Paul died a couple of years ago and his last studio album should be released retrospectively soon.
****
Review by Joe Geesin


£12.99
Look To The Future
© 2006 Angel Air Records. All rights reserved.