SAMMY & THE WABOS Livin' It Up
Rhino (2006)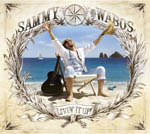 Sammy Hagar's new album could easily be a soundtrack to a party at his Mexican based Cabo Wabo bar. In fact 'I Love This Bar' is an advert for said bar! Also this is one of the weakest tracks on this album, along with 'Halfway To Memphis' verges to close into country territory for my liking.
Hagar does rock out for a few songs including 'Sam I Am' which name checks his past songs and lyrics. 'Mexico' is a good rocker complete with mid-section vocal harmony and cool drum solo.
'The Way We Live' is a typical mid-tempo Hagar number and the nearest in sound to his 80's albums. Bob Dylan's 'Rainy Day Woman' gets a run through and sits perfectly in the party atmosphere of the album. 'Sailin' is a very mellow number and highlights that Sammy Hagar can do ballads just as well as the up tempo numbers.
Not an album for fans of his 70's/80's hard rock output and hopefully now he has indulged himself with this party rock album he may give the fans a hard rocker next time around. That said it is perfect for summer BBQ's and cranking up on your car stereo.
***½
Review by Jason Ritchie
***** Out of this world | **** Pretty damn fine |
*** OK, approach with caution unless you are a fan |
** Instant bargain bin fodder | * Ugly. Just ugly
get ready to rock is a division of hotdigitsnewmedia group