ROXY MUSIC 'Live' Eagle EDGCD250 (2003)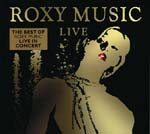 I think the first thing you have to ask with this double-CD is: who will it appeal to? Certainly those who witnessed Roxy Music's comeback tour of 2001, and maybe one or two former fans. But, in truth, the fans will no doubt have several versions of these tracks. Those wanting to discover Roxy would probably be best served by investigating an album like 'Avalon' or the 1986 compilation 'Street Life'.
Bryan and the boys (without Eno but with the great Chris Spedding on guitar) go through their paces and it's almost as if time has stood still for the best part of twenty-five years. Arguably, these versions are better-performed than the originals such is the passage and maturity of time. I never did quite get Andy Mackay's sax playing which at times bordered on cacophony but it was all part of the, er, brilliance wasn't it? What the recording lacks is the rawness of the original Roxy which is how those of a certain age will remember them. This CD gives them a certain sheen and we're not talking about Ferry's noted quiff, either.
Highlights include 'Tara' with the wonderful interplay of sax and violin (Lucy Williams), 'My Only Love', a good vehicle for Manzanera/Spedding and the backing singers, whilst the 'finale' of 'Love Is The Drug' and 'Do The Strand' will surely satisfy the aficionado. The material is weighted toward earlier than latter-period when the band refined themselves into a consistent and very accessible hit machine. At times reflective but always romantic, Roxy's torch was carried in the eighties by the 'New Romantic' movement evidenced by David Sylvian and Japan amongst others.
On second thoughts, I know who this package will appeal to: It's those forty somethings who have forgotten what a real live concert(c.1975) is like because they've only been to stadiums for the past ten years and they don't want to break sweat in the front row. If you really must bag this set, get the DVD version (Live At The Apollo) because armchair rock is what it's all about, not breaking sweat.
***
Review by James Rutherford
While My Heart Is Still Beating (Ferry/Mackay)
© 2003 Eagle/EMI Music Publishing/BMI Music Publishing Ltd.
All rights reserved.