ROXETTE A Collection of Roxette Hits: Their 20 Greatest Songs EMI (2006)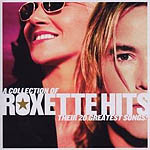 Roxette pretty much hit the jackpot from day one when, in April 1989, their first single The Look hit the UK top 10. Their clever blend of commercial pop/rock, their knack for writing radio friendly tunes, and Marie Fredriksson's fantastic voice have seen them go on to notch up 19 UK hits.
Most of those hits are featured on this 20 track, 20th anniversary package that comes in two formats - a one disc cd that features two new tracks - One Wish and Reveal - and a dual disc format that includes a dvd of all their videos hits.
For a band from Sweden, Roxette were massive. In fact, Roxette were massive full stop. And to put that in context Per Gessle was honoured by the American music industry in 2005 for 4 million airplays of It Must Have Been Love - the equivalent of 36 years of non-stop airplay. And Listen To Your Heat isn't far behind with 27 years airplay.
In 2002 Marie Fredriksson was diagnosed with cancer, but the good news is that she is now fully recovered and getting back to recording and performing.
The new single One Wish is instantly recognisable, following the formula so successfully deployed on The Look and subsequent hits. The only complaint is there doesn't seem to have been any progression. But, if it ain't broke, then why fix it?
While the hits on offer here have stood the test of time, I suspect the same probably isn't true of the accompanying videos, but unfortunately the dvd wasn't available for review.
****
Review by Pete Whalley
***** Out of this world | **** Pretty damn fine |
*** OK, approach with caution unless you are a fan |
** Instant bargain bin fodder | * Ugly. Just ugly
get ready to rock is a division of hotdigitsnewmedia group
Why should I buy this CD?
AOR? MOR? Pop/rock? Who cares. This is all the Roxette you'll ever need
Burn baby burn
Fading Like A Flower, Spending My Time, Sleeping In My Car, Wish I Could Fly