RORY GALLAGHER 'Big Guns - The Very Best Of'
(56:36) (55:25) (2005)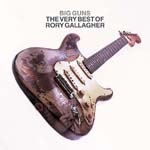 After all the compilations, and the (actually quite decent) remasters of a couple of years back, we finally get some material mastered for SACD. And even playing as a normal CD, the warmth and freshness in the sound quality makes for pretty essential listening.
Before this blues rock legendís life was cut short in 1995, Rory cut some great material that rocked, rolled and influenced many; just ask Thin Lizzy and U2 for starters. Two or Irelandís biggest exports followed the original and best.
Mixing stadium blues rock (think Foghat) and more acoustic traditional blues, Roryís guitar work is second to none. Whether rockiní out or producing some damn fine slide, the material here is well worth the 5.1 surround sound treatment.
Opening with Big Guns, weíre also treated to Bullfrog Blues, Messiní With The Kid and the classic Daughter Of The Everglades. Some rare live material, and from Taste in the late 60s up to the postumous Wheels Within Wheels set, and extensive sleevenotes, this is a pretty essential collection; whether as an introduction or look back.
*****
Review by Joe Geesin
Shadow Play
© 2005 Sony/BMG/Capo. All rights reserved.