ROOSTER 'You're So Right For Me'
Brightside Recordings (2005)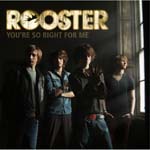 If Rooster got the all clear when Busted, well, busted, it is still a pity that mature rockers will probably view them from a distance.
You see, the band's image and boy-band appeal will raise the temperature of teenagers but anyone old enough to know the original inspiration may be cynical. Rooster have already professed influences from Free to Led Zep and they no doubt listened to their respective Dads' dog-eared vinyl collections.
This CD pushes the stadium-friendly You're So Right For Me and could secure them a third single success.
Rooster may end up turning the teens on to 'proper' rock 'n' roll but their enthusiasm and proficiency shouldn't be underestimated by older and wiser rockers - even from a discreet distance.
****
Review by David Randall
Related>> Album review
Related>> Band website
***** Out of this world | **** Pretty damn fine |
*** OK, approach with caution unless you are a fan |
** Instant bargain bin fodder | * Ugly. Just ugly