RONNIE WOOD Anthology The Essential Crossexion
EMI 5639552 (2006)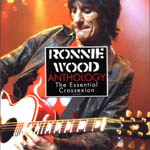 Musician, Artist, Rolling Stone and all round nice guy, Ronnie Wood is a legend- simple as that.
This 2-disc set highlights some of the highlights of a career that has spanned 5 decades. Disc One features 17 tracks from Ronnie's solo albums, including the unreleased 'You Strum and I Sing', whilst Disc Two contains 19 songs that Ronnie plays on with the biggest names in rock history- The Faces, The Stones, The Jeff Beck Group and The Birds.
The highlight tracks here are 'I Can Feel The Fire', 'Breathe on Me' and 'Josephine' from his solo disc, and 'Stay With Me', 'Flying', 'Maggie May' and 'Jailhouse Rock' from the 'Bands' disc. Long live Ronnie Wood.
****
Review by Nikk Gunns